THE BEST PLACES TO EAT SAIGON STREET FOOD
One of our new favorites … a real Saigon eating adventure here in District 3

If you have time for just one meal in Ho Chi Minh City, this is surely "THE place to eat in Saigon"!

Seafood, meats and veges, all in a scrumptiously rich sweet, tangy, pungent, spicy broth with splashes of garlic, lemongrass, shallots, lime and chili.

SPECIAL "INTRO PRICE" – Just $18 USD
After you've sampled plenty of Saigon street food, why not enjoy a truly unique eating and cultural experience with a local family!
Not far from "tourist central" in Saigon, but authentic and major yummy Saigon street food . Bún Thịt Nướng, grilled marinated pork with rice vermicelli noodles.
Thick udon-like noodles and a pile of real, shell-free crab meat. So good!
I think I know where you can find the best traditional Vietnamese sandwich in Saigon.
We've searched the streets of Saigon for the best bowls of phở … and share them here.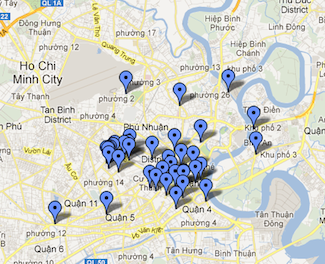 Discover over 150 "secret" Saigon street food locations using our famous Saigon Street Food Map
Perhaps my favorite street food eating adventure in Saigon. Try it – I think you'll love it!
It's not Saigon Street Food, it's served "in the alley." I eat here once a week and still,  I'm ready to go back anytime.

Having a sick day? Feeling great? Either way, the cháo here is amazing!
Find some amazing vegetarian food on the streets of Saigon
 **********

**********